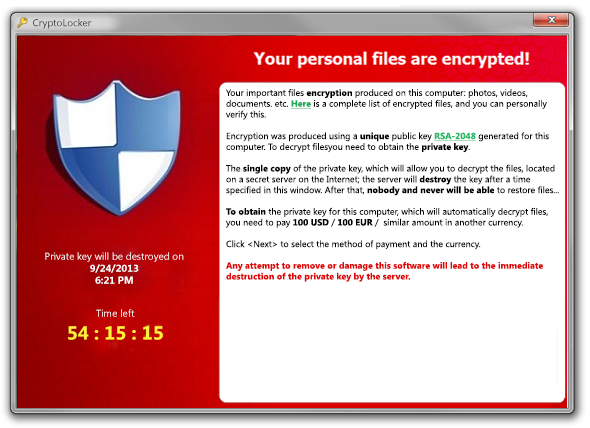 Cryptolocker - the most dangerous malware to hit Windows Computers ever?
Please use our articles to try and solve your own issues or simply for a good read. Please back your data up before trying anything mentioned here. Anything you try is at your own risk, we take no responsibility for anything that may go wrong.
Our articles do not require you to be an expert but we assume you are au fait with basic installation and navigation. If you require help from a professional please call and we can arrange a call out at your convenience on 0208 325 1427
I'm sure you've heard of someone or had it on your own computer where you get a fake virus application of some sort or a warning that you need to pay a fine due to illegal activity. As annoying or sometimes even frighening that these attacks are - they don't actually do anything apart from lock up your computer until you have it removed.
Cryptolocker does the same thing by giving you a warning that your data has been encrypted and you need to pay to get it decrypted. Ok no worries, get rid of that and carry on you think? Wrong.
Cryptolocker does actually encrypt your files behind the scenes and then stores your personal key on a remote server and now you need to pay to get it back at a cost of one bit coin or $300 or whatever they are currently charging. I have read that they are actually honouring payments and giving the key back (wow, what nice guys) however, you are still being blackmailed, you still have given criminals your payment details and you still could get it again. You could call up their switchboard and say you had it last week and they might let you off? of course there isn't a phone number anyway but they don;t care if they get you ten times they just want your money.
Apparently they have made tens of millions from this fraud in just a few months so expect them to keep doing it and others to follow suit and then more and more of these multi million pound scams appearing.
What can we do?
Be very careful what you are installing. Be wary of peer to peer sites, adult sites, streaming football sites. If something says you need to update something or install something to watch a video run a mile Be very careful of email attachments as this malware is currently being sent as a "complaint" or a banking or paypal thing. It comes as a zip file with an .exe file inside. DON'T OPEN THEM. Also strange word invoices arriving in your inbox are full of scripts to steal bank data so beware
What can you do for us We have software that can lock down your PC so that .exe (executable files) cannot be launched from certain directories (appdata, programdata etc) which is where this runs from. The good news is that most of the other malware and toolbar rubbish likes to run from thesse places too so it stops them as well.
Is it expensive - No - we can install it on one home pc for £45 or one business pc for £55. Subsequent systems are priced at £10 and £25 respectively
Once Cryptolocker has infected your system we cannot get your data back and it's very unlikely that anyone can as they have used "best practices" to install the encryption. Basically they know exactly what they are doing and have programed the software correctly to cause maximum chance of you paying out.
If you have any other questions regarding Cryptolocker or you want to book an appointment to patch your system call us today on 0208 3251 247