Laptop overheating? Laptop hot and cutting out?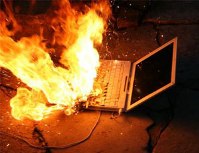 Laptops, notebooks getting hot, overheating and cutting out?
If your laptop is getting a bit too hot for comfort it might be time it had a health check!
The main reasons that a laptop, notebook will get too hot are:
Laptop being overworked, high CPU usage
Laptop sat on your lap and the vent underneath blocked
Laptops processor cooler is blocked with fluff! (see below)
No regular maintenance or never been maintained
An overheating laptop will usually turn itself off to prevent damage but even so, a laptop that is constantly getting too hot will be causing a lot of components inside to fail before their time is due!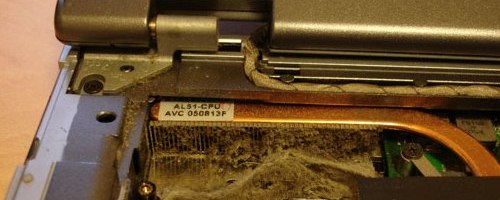 Laptops getting hot, overheating and cutting out?
As you can see from the images above, the processor cooler (fine fins below the label) is totally blocked and starving the laptop from enough air flow to cool the system down.
The cooling fan on this laptop was running at top speed almost from the moment it was switched on to the moment the overheating protection shut the laptop down.
On most laptops the cooler can be accessed by simply taking the keyboard out or removing a panel from underneath, the fan can then be removed and the dust and fluff can be cleaned away.
If we can access the cooler on your system easily, the cleaning can usually be included in the cost of a health check.
Some systems need to be totally stripped down before the cooler can be cleaned and this process can be a little more expensive....
Give us a call or pop in for an idea of how much this service is likely to cost, it may be cheaper than you think and it definitely beats the cost of buying a new laptop!
Prevent it from overheating in the first place
Although the term 'laptop' suggests using it on your lap, the design usually leaves the cooling vent blocked by your leg. If you like to use your laptop on your lap, try placing it on a tray first or even a book so the vent can allow a flow of air through the laptop.
Don't place your laptop on the carpet or bed or any similar material, this is where the fluff and dust comes from to block the laptop's processor cooler above.
Laptop & Notebook Service Repair in Kent and London - You won't find a better service!
over 20 years experience
Laptop Makes Repaired

Acer
Advent
Alienware
Asus
Compaq
Dell
EI System
Elonex
Emachines
Fujitsu
Gateway
Hewlett Packard
HP
IBM
JVC
Lenovo
LG
Medion
NEC
Packard Bell
Panasonic
Patriot
Philips
Samsung
Sharp
Sony
Time
Tiny
Toshiba