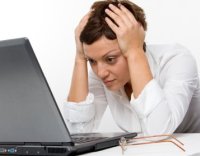 Computer Data Recovery & Lost password Recovery for computers
Computer Data recovery
Hard Drive Recovery - Have you lost data? Or deleted data?
Even huge companies with a substantial IT budget can lose data. The cost of backing up data effectively is always cheaper than having it recovered and certainly less painful than losing it forever! Read the big OOps!
If you are experiencing data loss, please turn off your pc immediately. The chances of full data recovery are greatly increased the sooner the system is turned off.
If you accidentally delete a certain file, it's not actually deleted there and then. All that is deleted is the path to that file but it is marked as free space and will be over written as soon as the system needs that space, so you need to act fast in the recovery of it.
Data recovery on a formatted hard drive is also possible. If for instance you have re-installed Windows and 'shock horror' all your data has gone, you had better call us without delay!
Data recovery from a virus infected hard drive disk is another common issue we regularly deal with, our success rate is incredibly high so don't delay - call us today!
We are able to recover data from the following:
Desktop hard disk drive - data recovery available
Laptop hard disk drive - data recovery available
Notebook hard disk drive - data recovery available
USB flash drives - data recovery available
Camera memory cards - data recovery available
We carry out data recovery to all the above and more, all makes of pc and all makes of hard drive.
Hard Drive Data recovery needs to be carried out in a controlled environment by experienced technicians using the latest technology and software and following strict guidelines, don't leave it to chance!
Password recovery.
Password recovery is available for Window XP and Windows Vista,7, 8.1 and 10 based computers.
We can reset your password in a few minutes if you are locked out of Windows. Immediate call out is usually available.
Proof of ownership required for this service!
Password retrieval.
Web and email password retrieval
We all do it, register to a new website & enter a username and password, tick the save password box and we never need to remember it - until one day!
Looking at a row of stars isn't much of a clue, it just adds to the frustration.
We are able to uncover those hidden passwords in minutes - call us for advice on whether it's possible for your situation.
Proof of ownership required for this service!
Corrupt Outlook, Word or Excel files?
If your Microsoft office files have become corrupt or missing including: Outlook, Outlook Express, Word, Access, Powerpoint, Excel - Call us today for a prompt solution.
Data Recovery - Password Recovery - Call the experts - Problem Solved!